Arts funding: why so many artists don't apply for the money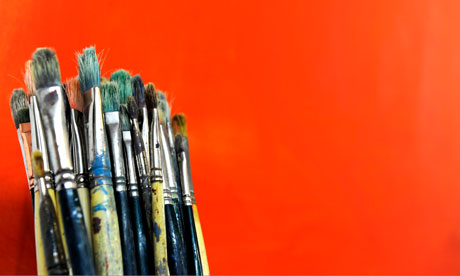 Photograph: Christopher Thomond for the Guardian
A new report, comissioned by a-n, The Artists Information Company, shows that surprisingly few artists apply for funding in their own right.
A Fair Share? Direct Funding to Artists is a report that quantifies the amount of funding given directly to artists from each of the four UK arts councils in the years 2009-2010 and 2008-2009. It also summarises the funding streams available to individual artists and the visual arts priorities of the UK arts councils.
The key finding is that surprisingly few individual artists apply for money in their own right and even fewer are successful. In England, less than 5% of artists apply in their own name every year and of those, less than 2.5% are successful. This means that there is little direct funding being given to artists to pursue and develop their own projects, under their own control: under 20% of available funding for the visual arts in England, 14% for Northern Ireland and around 18% for Scotland and Wales in 2009-2010.
The aim of the research is to provide something of a rallying cry. Yes, this is a situation that should be addressed by the various arts councils that seek to support artists' development within their overall policies. But it is arguably also the responsibility of individual artists to overcome feelings of disinclination, demotivation and whatever else may be preventing them, and to put together more and better applications for the considerable funding that is still available.
It is not radical to suggest that individual artists could and should get a bigger slice of the funding cake than they do, and that many more of them should be directly funded because of the value their practice brings to arts policy delivery. But the fact that they don't highlights the urgent need to understand and address properly what isn't working and take any actions necessary to improve them.
There is a request for comments in response to this research, particularly if you are an artist, about your own experience of the arts funding systems and your perceptions of it. Feel free to comment below, on my blog or directly on to the a-n site immediately underneath the report.
This content was originally published by Dany Louise on her blog - Dany is a visual arts specialist and writer with 20 years' experience in education, management and strategic arts roles. She focuses on cultural policy development, CPD training and arts writing. Follow her personal Twitter account @danylouise
A Fair Share? Direct Funding to Artists was commissioned from Dany Louise by a-n, The Artists Information Company - you can download the report here
- Article source: http://bit.ly/rtetTA

Last Updated (Thursday, 10 November 2011 12:31)
Platforma North East hub is growing, helping our strategy to mainstream North East Refugee arts
We are working with our regional partners Northern Roots to develop a North East hub for the national Platforma network and are making steady progress in assisting organisations and artists in updating their profiles.
We're pleased to announce that two Intercultural Arts members are now part of the Platforma network. Click their images to visit their profiles:
Shahin Borhanzehi
Platforma profile status:
'Hello, My name is Shahin and I am interested cultural heritage and crafts of regions of the world - with specialism in Balouch womens craft'
Panganai Svotwa
Platforma profile status:
'Hello, just joined Platforma and I am based in the North East. Please keep in touch'
What is Platforma?
''Platforma - arts and refugee network is about supporting, developing and mainstreaming refugee related arts.
Its aim is to bring together groups and artists of any background or political status (e.g. refugees and non-refugees), whose work examines the varied experiences of refugees both before and after they arrived and settled in their host country.
Platforma hope that the quality and diversity of the work that will be presented within the Platforma project in the next few years will encourage new audiences to relate more closely and empathically to the experiences of refugees.
What does Platforma consist of?
The main elements of the project are the website and two national events - both of which are different ways of bringing together, showcasing and promoting the work of relevant agencies and artists. Platforma is also supporting the development of regional networks or "hubs", which are involved in developing and promoting related activities, managing relevant sections of the website and contributing to the development of the national events.
Who runs Platforma?
Platforma is developed in partnership between Refugee Week UK and Oval House Theatre, and is supported by The Baring Foundation and Arts Council England.
The project is coordinated by Tom Green (Platforma Coordinator), who works closely with Almir Koldzic (Head of Partnership for Arts and Refugees) and Stella Barnes (Director of Participation at Oval House).
Refugee Week UK is a partnership body that specialises in developing platforms for more creative, playful and experimental approaches to refugee experiences.
Oval House has a long history of providing arts opportunities for young refugees and asylum seekers and of collaborating with exiled artists.''
Last Updated (Wednesday, 09 November 2011 13:03)
Empower and enforce your creativity through copyright and Intellectual Property...It's time to get savvy with Own-It and Creative Commons.
If, like us, you value the originality, concept and creativity of your work and you want to promote it out there in the world. A world (especially the digital, on-line world) where constant re-sampling, direct-influencing and downright copying of creative output constantly takes place; you'd better gets savvy with how to protect your creativity. Who knows, maybe incorporating creative protection systems into your practice will pay off, promote you as an artist and give you some recognition?!
We reckomend you become familiar with Own-It and Creative Commons.
Own-It: Provides knowledge, support and advice on intellectual property to the creative sector through events, online resources and an online enquiries system. They help creative practitioners to protect and manage their IP and recognise the value for the growth of their business.
From the music we listen to and the books we read, to the computer software and products we use in our daily lives, most of the world's creative output and content (including possibly yours) can be classified as intellectual property (IP).
But IP rights don't protect ideas or concepts; it is how these ideas are brought to life that means they can be protected by IP legislation.
Products, technical solutions and new inventions are protected by patents and design rights; literary, artistic, dramatic and musical works are protected by copyright; and brand names, words, sounds, and even smells, are protected by trade marks.
In a nutshell, all of your mental and creative 'outputs' can be transformed into tangible 'commodities' so that you can licence, sell, trade, divide or retain your rights to those commodities. Creative individuals and businesses should, therefore, be protecting everything, particularly designs, brands, logos, packaging and software creations.
Download Own-It article 'Doing the Rights Thing' for a step-by-step guide on protecting, exploiting and managing your IP.
Creative Commons: The idea of universal access to research, education, and culture is made possible by the Internet, but our legal and social systems don't always allow that idea to be realized. Copyright was created long before the emergence of the Internet, and can make it hard to legally perform actions we take for granted on the network: copy, paste, edit source, and post to the Web. The default setting of copyright law requires all of these actions to have explicit permission, granted in advance, whether you're an artist, teacher, scientist, librarian, policymaker, or just a regular user. To achieve the vision of universal access, someone needed to provide a free, public, and standardized infrastructure that creates a balance between the reality of the Internet and the reality of copyright laws. That someone is Creative Commons.
Click on both images to visit their sites
Last Updated (Tuesday, 09 August 2011 15:01)
Great resources for designer-makers via Creative Choices

Are you a designer-maker? Create a new, exciting life by taking some solid advice. Without being patronising or formulaic, the info below can refresh or inform your working knowledge:
A difficult obstacle for designer-makers is not the creative side, but getting support and resources to operate as a creative business. Get some online resources for craft careers.
The resources below are from Cockpit Arts, an award-winning social enterprise that provide designer-makers with affordable workspaces and support to grow their businesses.
Business tools for creative businesses
The Cockpit Arts 'Making It' blog features a number of useful downloads for developing a creative business.
Business planning
Marketing
Finances
Creative workshops and seminars
Cockpit Arts run regular workshops and seminars, available to designer-makers outside of their studios.
Workshops are run by in-house coaches, as well as creative industries advisors, accountants, lawyers, marketeers, retailers and IT experts, designed to hone skills needed to run a successful practice.
The Making It seminars are high-profile events that tackle topical industry themes and aim to stimulate debate within the designer-maker community.
Studios and support for designer makers
For practising designer-makers looking for a London studio, Cockpit Arts can offer space and support to develop a creative business.
A 'creative business incubator' is a package specifically tailored by Cockpit Arts to meet the needs of designer-makers, including:
Open Studios public selling events

Promotional and selling opportunities

Office facilities and resource room

A team of on-site coaches

One-to-one business support
You can watch a film, made by Creative Choices, about Business support for makers at Cockpit Arts.
Article found at:

Last Updated (Wednesday, 18 May 2011 15:32)